---
Start with Safe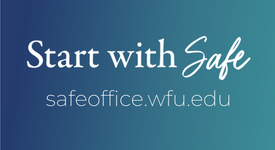 The Safe Office provides confidential support for Wake Forest students who have or are experiencing interpersonal violence of any kind (including but not limited to sexual harassment, sexual assault, relationship violence, and stalking). Professionals in the Safe Office can help you review your rights, explore options, and assist you in whatever steps you decide to take.
---
Training and Programs
The Title IX Office collaborates extensively with other University offices, such as the Safe Office, the Office of the Dean of Students, and the Office of Wellbeing, to offer awareness campaigns and prevention programs that seek to promote positive and healthy behaviors that foster healthy, mutually respectful relationships, encourage safe bystander intervention, and seek to change behavior and social norms in healthy and safe directions.